Musician. Artist. Producer… We use those terms so much they lose their flavor quickly. But every now and again, a creative force comes along and inspires us to see the act of music-making in a whole new light. Staytus, the musical alter-ego of recording wunderkind Sam Grundemann, has returned to raise the bar once again with her sophomore album Wasteland of Broken Hearts. While Grundemann fashioned Staytus as a kind of digital dark-angel avatar come to deliver a reckoning for the onslaught of challenges today's young adults must navigate, she herself has quietly come to exemplify the evolution of the music producer.
As she showed on her 2022 debut full-length Disease of the Mind, Grundemann—who acquired multiple recording degrees and certifications by the ripe old age of 17—fuses writing, playing, and recording with a total sound-design awareness. There's "self-production" and then there's being an auteur. Staytus demands that we make the distinction.
And in an age where the album is supposedly dead and gone, Grundemann is doggedly sticking to her mission, striving to capture the epic sprawl of a magnum opus like Nine Inch Nails' The Fragile. With Wasteland of Broken Hearts, Grundemann inches tantalizingly close to her goal.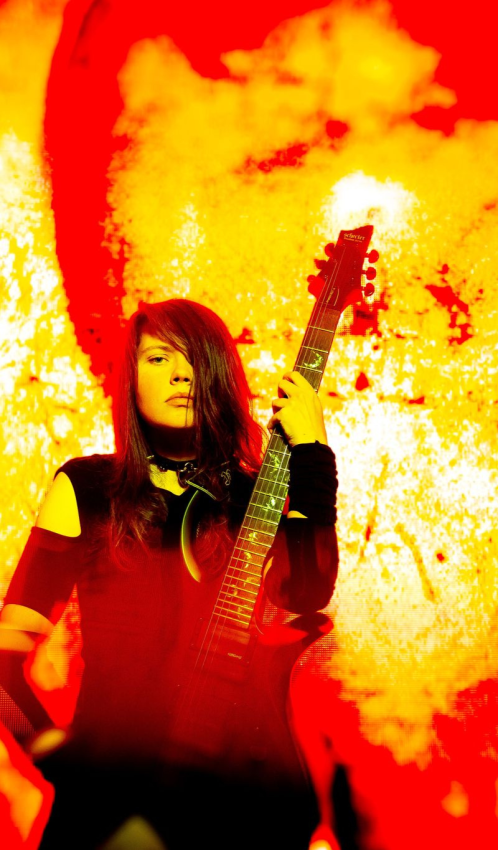 An album that unfolds with the peaks, valleys and changing scenery of a film, Wasteland of Broken Hearts pins you to your seat from start to finish. Of course, the music is so rich in sonic texture there's an almost tactile quality to Grundemann and co-producers Adam Berg and Sean Beavan's mixes—no surprise to anyone already familiar with Staytus' debut. For the second time, Grundemann has crafted a work that pulls you into its own sonic dimension. And again, Grundemann has stamped this music with her singular approach to production and vibe: Gen X-inspired angst meets animé and modern gaming culture set to an electro-industrial nu metal soundtrack.
This time, however, Grundemann emerges as a songwriter, her melodic craft and intuitive sense for hooks catching up to her prodigious DAW chops. On songs like leadoff single "Love Sick" and "Get Down," the serrated guitars and walls of static noise abrasion give way to vocal hooks that rival any of the canonical nu metal anthems that have made their home for decades on modern rock radio. It takes moxie and guts galore to wear an out-moded musical style on one's sleeve, but if there's any one artist who's poised to give nu metal a modern makeover and imbue the genre with a newfound sense of respectability, it's Staytus.
Which is not to say that Grundemann is a retro artist. Quite the contrary: whether or not the sounds of groups like KoRn, Orgy, Black Dresses, Kittie and How To Destroy Angels ever come back into vogue has no bearing whatsoever on the impression that Wasteland of Broken Hearts makes, or its place on the contemporary landscape. At the cutting edge of where new recording technology and artistry converge, Grundemann is leading the charge for a new generation of musician-producer songwriters. And her ability to translate trauma, betrayal, heartbreak and grief into sound from a non-neurotypical perspective is nothing less than a gift.
When angst swept through popular music in the 1990s, mass shootings, crippling anxiety, cyberbullying, political polarization, media saturation and the perils of life on the internet were still in their infancy. Today's musician, alas, has to speak a different language. That said, Wasteland of Broken Hearts is hardly the barren place its title would suggest. In so many ways, Staytus has made one of the most alive musical statements of our time.

Avid Certified Pro Tools Operator of Music, Postproduction
Certificate of Sound Design, Paradise Valley Community College
Associate of Applied Sciences Degree in Audio Production Technologies with distinction, Paradise Valley Community College (Summa Cum Laude)
Associates of Arts Degree, Scottsdale Community College (Phi Theta Kappa Honor Society)
Two-Year Internship Scottsdale Music Company
Arizona State University School of Music Student Pursuing Bachelor of Arts in Popular Music