Staytus' Lead Single "Lovesick" from Upcoming Album Promises
to Be a Nu Metal Anthem for a New Generation
Staytus, the musical alter-ego of recording prodigy Sam Grundemann, has released the lead single "Lovesick" from her highly anticipated second album, Wasteland of Broken Hearts. The album, which follows Staytus' critically acclaimed debut Disease of the Mind, promises to be a sonic masterpiece that captures the epic sprawl of classic albums like Nine Inch Nails' The Fragile.
With her singular approach to production and vibe, Staytus has become a leading force in the new generation of musician-producer-songwriters. On Wasteland of Broken Hearts, Grundemann emerges as a formidable songwriter, blending her prodigious DAW chops with a melodic craft and intuitive sense for hooks.
Lead single "Lovesick" showcases Staytus' ability to infuse modern electro-industrial nu metal with Gen X-inspired angst and animé and gaming culture. The track boasts serrated guitars and walls of static noise abrasion, which give way to vocal hooks that rival any of the canonical nu metal anthems that have made their home for decades on modern rock radio.
Staytus' ability to translate trauma, betrayal, heartbreak and grief into sound from a non-neurotypical perspective is nothing less than a gift. With Wasteland of Broken Hearts, she has made one of the most alive musical statements of our time, speaking a different language for today's generation of young adults who must navigate the challenges of mass shootings, crippling anxiety, cyberbullying, political polarization, media saturation and the perils of life on the internet.
Staytus demands that we make the distinction between self-production and being an auteur, and in an age where the album is supposedly dead and gone, Grundemann is doggedly sticking to her mission to create a work that pulls you into its own sonic dimension. With Wasteland of Broken Hearts, she inches tantalizingly close to her goal, and it is clear that if there is any one artist poised to give nu metal a modern makeover and imbue the genre with a newfound sense of respectability, it's Staytus!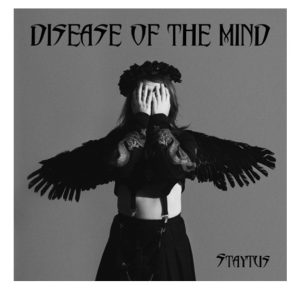 Disease Of The Mind
Track Lyrics